Commentary
Warren Stoddart joins Chas Burkhart on the Global Investment Leaders podcast
September 22, 2022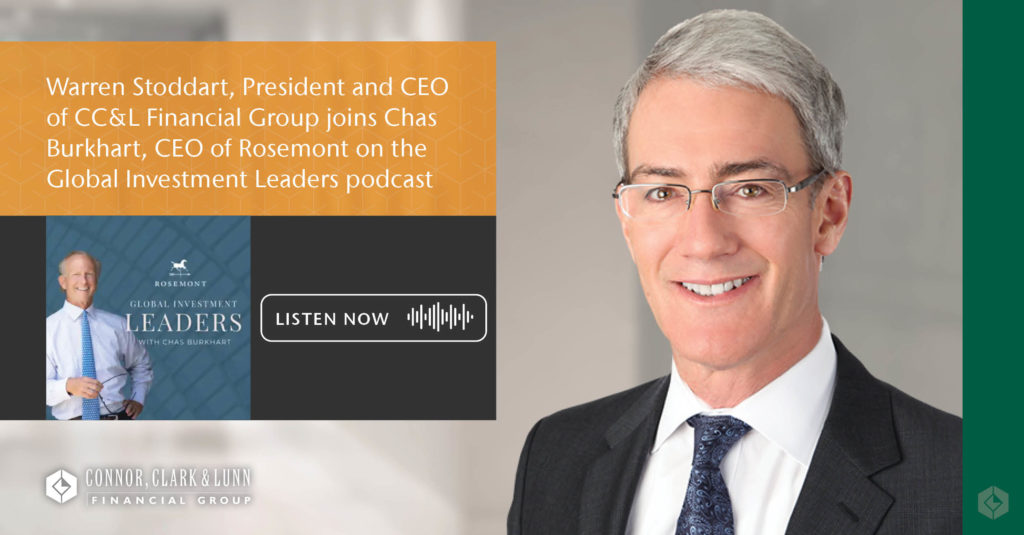 Warren Stoddart, Connor, Clark & Lunn Financial Group's President and CEO recently joined Rosemont CEO Chas Burkhart as a guest on the Global Investment Leaders podcast. Warren shares his thoughts on: CC&L Financial Group's evolution over the past four decades, growing the business to a $100 billion global firm, and what is coming up next for the firm.
In the episode, Warren reflects on the changes to the business over the years that have led to CC&L Financial Group becoming one of the largest employee-owned asset management firms in Canada. He notes that when he first started in the business, there were a number of employee-owned firms of substantial size. One by one, all either failed or were acquired. Chas and Warren discuss the many challenges to maintaining growth in an employee-led firm, in particular, succession planning, both in CC&L Financial Group and within its affiliates.
"We know the business is larger, more complex and requires more specialized knowledge in particular areas," said Warren. "There are going to be a larger number of leaders in the next generation of the business than there were in this one. And they are going to be focused on different areas— marketing and product development was something that were almost an afterthought 20 years ago, and it's a big part of what we do today."
Part of the complexity comes from the growth in private markets, alternatives, global assets and global clients: 15 years ago, almost all of CC&L Financial Group's revenues and assets came from Canadian pension funds investing in Canadian equities. Around that time, the firm made its first foray into private markets with a 150MW hydro project in BC.
Today, CC&L Financial Group's revenues are almost evenly split between public markets, private markets, high net worth, investment products, and the returns on the investments the partners make as principals on its own balance sheets. In addition, global equities assets have surpassed CC&L Financial Group's Canadian equities assets, demonstrating the growth and reach of the business, as well as the value of the multi-boutique affiliate structure.
"One of the secrets to our success is being very focused on establishing cultural and structural alignment of interests with our partners and within all parts of our organization," says Warren.
Listen to the full episode of the Global Investment Leaders podcast featuring Warren Stoddart by clicking the play button below.